FLIGHT TIME

APERTURE

VIDEO RESOLUTION

CONTROL RANGE

GIMBAL

EFFECTIVE PIXELS

31min

F2.8 (24mm)

F3.8 (48mm)

4k 30fps
8km
 3-axis
12mp
THE ULTIMATE TOOL FOR NEW ZEALAND FARMERS
The Barking Drone is similar to the DJI Mavic 2 Zoom, which is popular for its portability and high-quality camera, but it is designed with a smart port on top of the craft that allows the addition of modular accessories, such as a loudspeaker and a spotlight. The loudspeaker can be used to record any audio, including a siren sound or dog barking, to play back at a sound level able to be heard from hundreds of metres away. Stock respond quickly and effectively to the sound.
The Barking Drone also sports a 12-megapixel camera with 2x optical zoom and is capable of capturing 4K footage. Farmers already utilise the camera for a range of tasks from checking stock to examining troughs to assessing hard-to-reach fencelines. The addition of the zoom for closer inspection, the spotlight for low light operations and GPS timestamping for accuracy, makes these operations even easier than before. In cold climates, self-heating batteries ensure the drone will perform, even in sub-zero temperatures.
A RANGE OF MODULAR ACCESSORIES
With an extended port that allows the user to connect additional devices onto the drone, helping to perform at its best in a variety of daily and critical missions. The M2E Spotlight for the low light environment, M2E Speaker for air to ground communication and M2E Beacon for night time operations.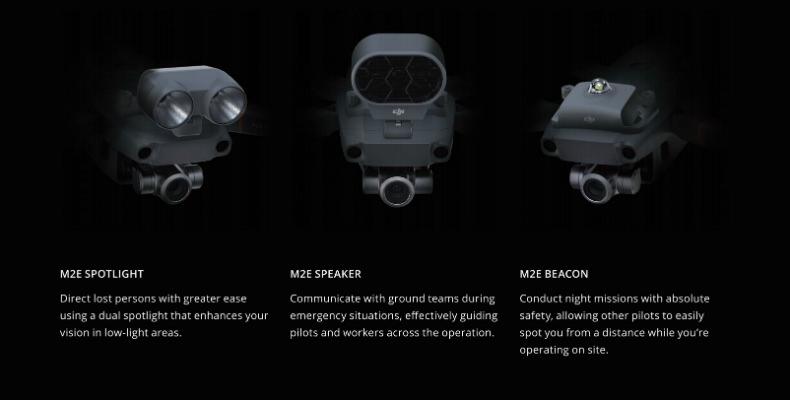 STOCK MANAGEMENT
Tracking, inspecting, and monitoring livestock across a large uneven terrain poses challenges, mainly relating to time and efficiency. The Mavic 2 Enterprise is equipped with a 2x optical zoom camera that lets farmers obtain information regarding the condition and position of your livestock. The Mavic 2 Enterprise's omnidirectional obstacle sensing system enables farmers to fly and hover with more stability than ever in a wide range of open and complex environments. It also offers an extended flight time of up to 31 minutes and a maximum speed of 72 kph. With this kind of manoeuvrability, farmers are able to swiftly respond to situations where time is crucial.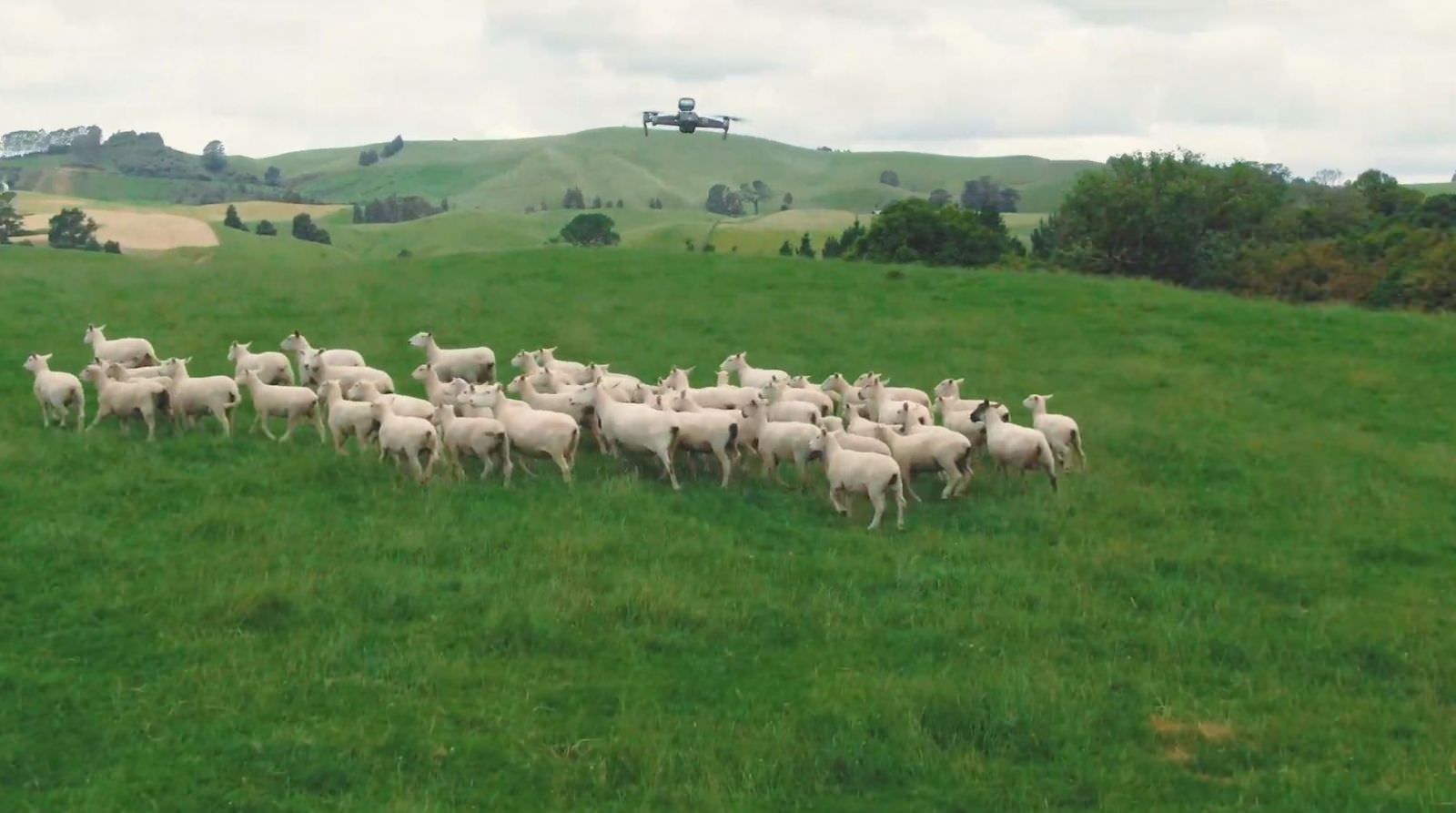 Equipped with the M2E Loud Speaker module, the craft is capable of recording sounds, such as barking, to playback on the speaker. From our testing, stock responds quickly and effectively to the sounds, even in winds. With a high-quality camera, farmers can also record a video to review and improve herding techniques. The zoom camera enables farmers to be able to monitor the health of livestock even more effectively, even in hard-to-reach environments like deep gullies or steep hillsides.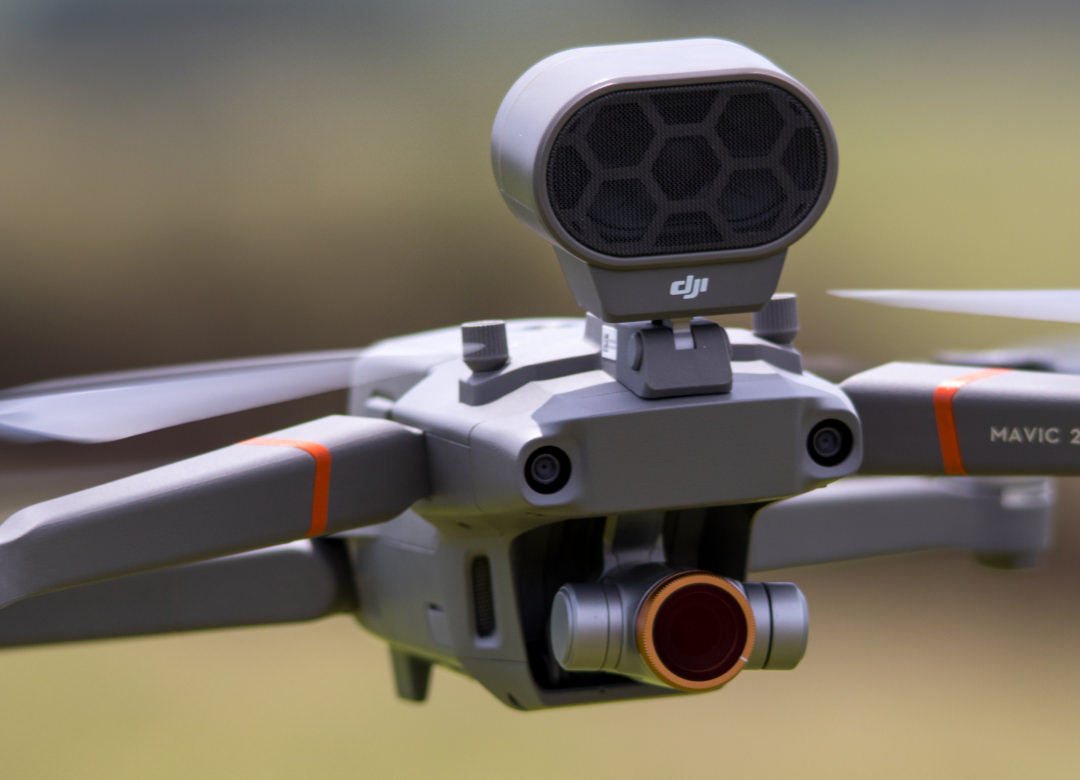 BIRD SCARING
In the past, methods of bird mitigation to protect crops on farms have been very labour intensive and costly. Although attempts at making loud noises or firing off guns have been used by farmers for years, paddocks can still lose half a tonne a hectare to birds.
The Mavic 2 Enterprise with its attachable loudspeaker can record a siren to effectively manage and reduce the damage of birds on yields. The speaker is capable of recording high multi-pitch sounds specifically designed to scare birds or bats. By employing the GPS tracking feature, farmers can also set up waypoints to automate their operation. The Mavic 2 Enterprise can cover large areas quickly, mitigating bird numbers over vulnerable crops.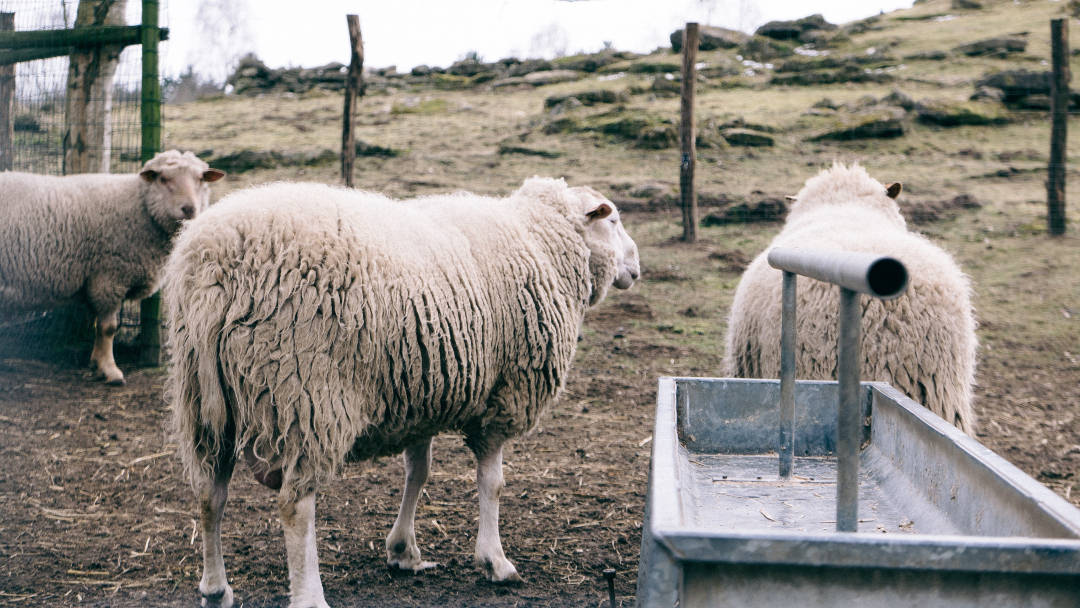 ASSET INSPECTION
A common sight in rural New Zealand is seeing a farmer "walking the fence" with a fence tester to track down the source of a power loss. The most common culprits are vegetation overgrowth, loose wires and broken insulators. With the Mavic 2 Enterprise's powerful 2x zoom camera and its onboard Spotlight, farmers can save many frustrating hours of fence-walking. With the ability of the Mavic 2 Enterprise to set up GPS waypoints and record inspections at 4K resolution video, farmers can record the video and then inspect their fences in the comfort of their own home.
With the same approach, farmers can regularly inspect your water troughs, shed roofs, and hard-to-reach areas with minimal effort.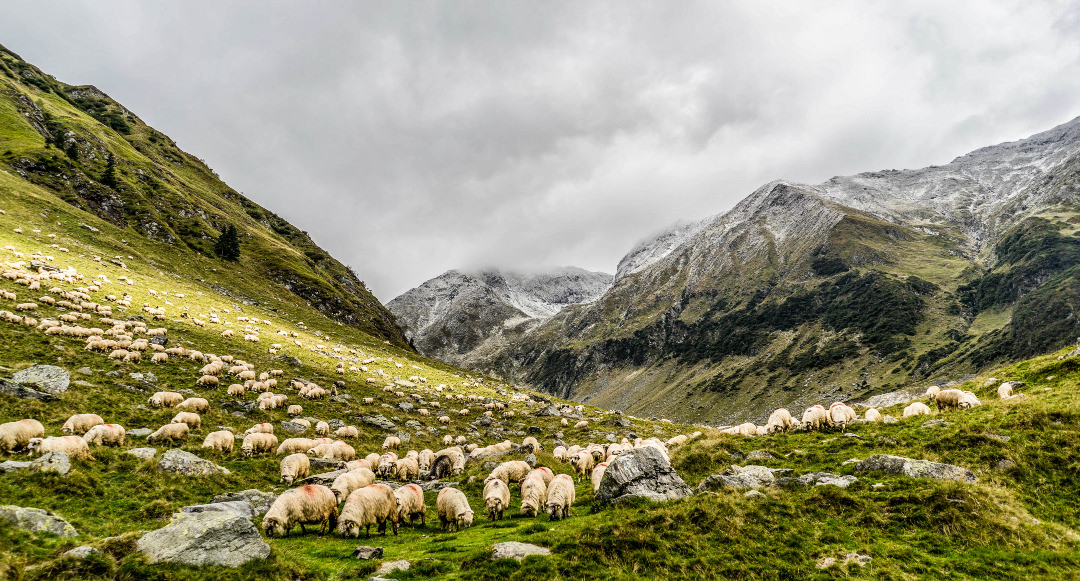 HIGHLIGHTS
Zoom Camera and 4K Video Resolution for closer inspections of livestock and assets
Modular accessories including a loudspeaker, spotlight and beacon for effectively shifting stock and checking assets at any time of day
8km Control Range and 31 Minute Flight Time for covering larger areas, allowing for quick and efficient monitoring of livestock and assets

Low Noise Propellers to keep animals calm during inspections
OTHER FEATURES
LESS INTERFERENCE, ENHANCED TRANSMISSION
A sheer flying performance with OcuSync 2.0 which supports automatic dual frequency band switching. This capability ensured a more reliable and stable flight and enhanced video transmission of up to 8 km at 1080p resolution.
MORE ROOM FOR YOUR MISSIONS
With a 24 GB internal storage, you can now store a lot more data for your missions, allowing you to get more done without the constant need of transferring images manually over SD card.
25 MIN AVERAGE FLIGHT TIME WITH EACH ACCESSORY
Max hovering time (no wind) of Mavic 2 Enterprise + M2E Spotlight: 22 min; Spotlight turned off 26 min
Max hovering time (no wind) of Mavic 2 Enterprise + M2E Speaker: 22 min; Spotlight turned off 26 min
Max hovering time (no wind) of Mavic 2 Enterprise + M2E Beacon: 27 min; Spotlight turned off 28 min
REFINED IMAGING FOR TACTICAL AND PRACTICAL USE
The imaging system has been developed to assist pilots in close-range missions and ensure data is captured efficiently and accurately. Stay close to the action but away from the danger. The Mavic 2 Enterprise is equipped with a 2s optical zoom camera that lets you operate in close range missions without putting yourself in harm's way.
| | | | |
| --- | --- | --- | --- |
|   |   |   |   |
| 2 x Optical Zoom | 3 x Digital Zoom | 4K/30p Video at 30fps | 1/2.3" 12 MP CMOS Sensor |

GPS TIMESTAMPING
Like with the iOS or Android device, GPS timestamping records the time and date that images are taken, so you can leverage data for industry level applications where accuracy is essential, and timing is vital.
SELF-HEATING BATTERIES FOR ADVERSE ENVIRONMENTS
In the rugged terrains of New Zealand, you can rest assure that the Mavic 2 Enterprise will not falter. In demanding cold climates, the Mavic 2 Enterprise adapts with a suite of smart self-healing batteries that are capable of working in sub-zero temperatures. 
DJI AIRSENSE
Stay aware of your immediate airspace. Avoid hazards in the sky with the DJI AirSense, which enhances your airspace safety by giving you instant real-time positioning alerts on nearby manned aircraft. AirSense uses an integrated receiver to automatically alert drone pilots of ADS-B signals from nearby aeroplanes and helicopters, providing real-time positioning alerts through the DJI Pilot mobile app. This provides an extra level of safety for professional drone operators who fly in congested airspace or near complicated operations, such as wildfire suppression, disaster recovery and infrastructure monitoring. DJI AirSense is a key system to help ensure drones remain a safe addition to the skies.

OMNIDIRECTIONAL OBSTACLE SENSING
Fly safer than ever, experience an unrivalled flight with the Mavic 2 Enterprise's omnidirectional obstacle sensing. This advanced sensing system enables you to fly and hover with more stability than ever in a wide range of open and complex environments. 
ADVANCED PILOT ASSISTANCE SYSTEM (APAS)
Sense and avoid with ease, the Advanced Pilot Assistance System (APAS) intuitively detect objects near your drone's every move, letting you easily fly around or over an obstacle, particularly in tight spaces. Instead of the craft going to a halt when an obstacle is encountered the Mavic 2 Enterprise will avoid the obstacle and continue on its original course.
DJI PILOT
DJI Pilot is a robust Android and iOS app developed specifically for the enterprise users to unleash the power of their DJI drones. With development made specifically for the Mavic 2 Enterprise. DJI Pilot optimizes your flight capability for peak performance.

DIRECT FLIGHT CONTROL
Access camera and accessory settings, intelligent flight modes and more with a single touch.
CONDUCT AUTOMATED 
FLIGHT
Perform repeatable data collection missions and conduct them automatically.
Accessories Highlights

ULTRA-PORTABLE 
Following the key feature of the Mavic series, the Mavic 2 Enterprise is slim enough to be carried anywhere and engineered to handle any tasks whenever duty calls. At 905 g the Mavic 2 Enterprise can be folded in an instant and stored at the side of any belt package. This feature enables the bearer instant power that's easily accessible and transportable.
IN THE BOX
Aircraft x 1
Remote Controller x 1
Intelligent Flight Battery (Self Heating) x 1
Gimbal Protector x 1
Charger x 1
Power Cable x 1
Propellers (Pair) x 2
Spare Control Stick (Pair) x 1
RC Cable (3.0 Type C) x 1
RC Cable Lightning Connector x 1
RC Cable Standard Micro USB Cable (Slider Included) x 1
USB Adapter x 1
Extended Port Cover x 1
Speaker x 1
Spotlight x 1
Beacon x 1
Protector Case x 1
Manuals  x 1