Details
FEATURES
DJI has redefined the drone racing industry with the new Digital FPV System. It delivers lower latency rates within 28 ms, a 4km maximum transmission range, stunning HD 720p/120fps resolution, and, most importantly, an unforgettable FPV flying experience.
A NEW ERA OF FPV RACING
The DJI Digital FPV System features the DJI HD Low Latency FPV Transmission technology (DJI HDL FPV Transmission). This redefined technology was designed to heighten your FPV experience. Pilots can race smoothly with a latency within 28 ms and enjoy a crystal-clear view while doing so.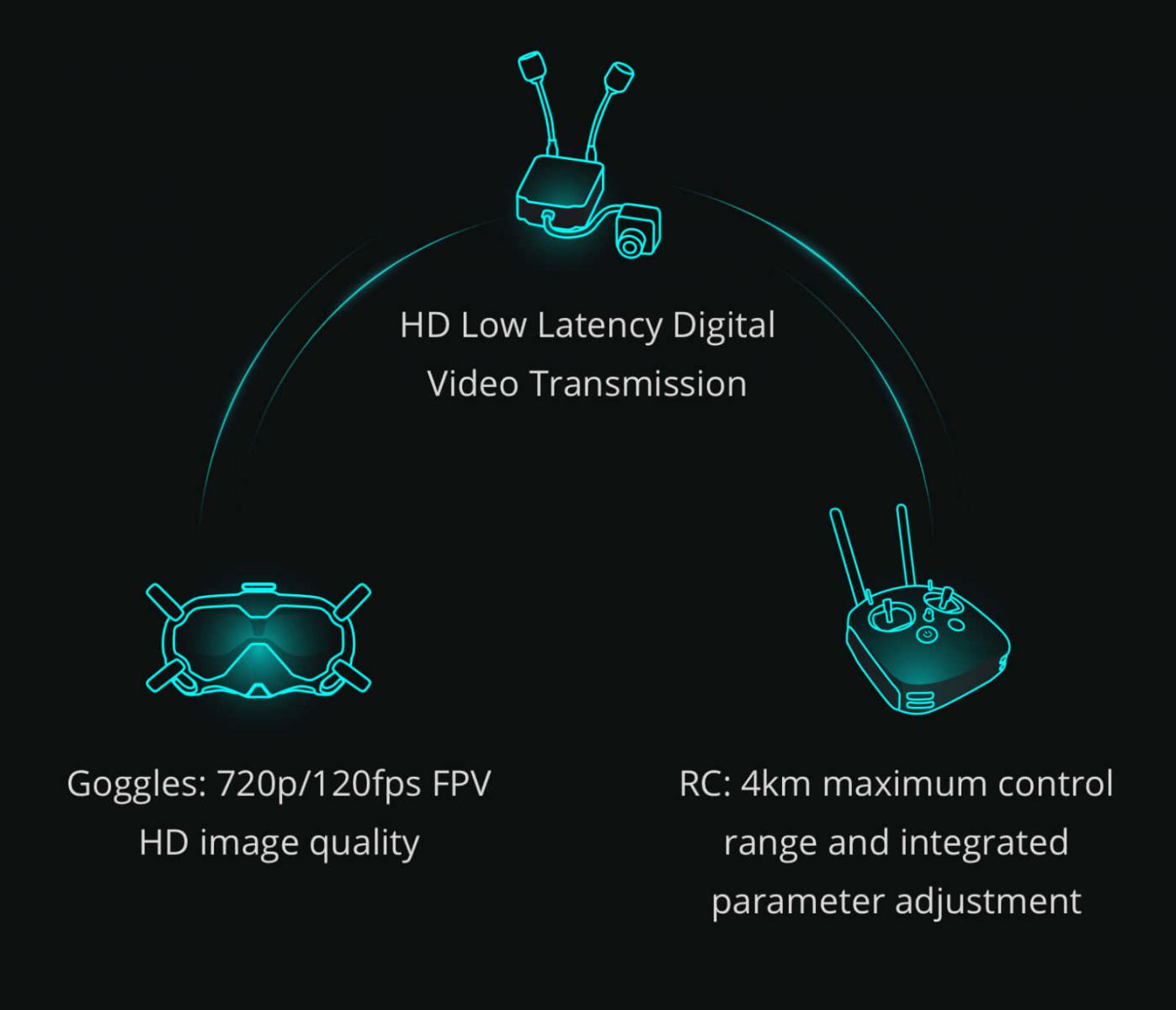 720P/120FPS VIDEO TRANSMISSION
The DJI HDL FPV Transmission technology features a smooth 720/120fps HD live view and latency within 28 ms.
ANTI-INTERFERENCE DIGITAL TRANSMISSION
The DJI HDL FPV Transmission technology utilizes a two-way communication system to stabilize signal connections, granting pilots more flexibility while flying through challenging areas.
28MS LOW LATENCY
The DJI HDL FPV Transmission technology delivers a minimum end-to-end latency within 28 ms and stunning HD views

REMARKABLE HD IMAGE
DJI FPV Goggles utilise the DJI HDL FV Transmission to provide pilots with remarkable HD resolution for both viewing screens and a minimum end-to-end latency within 28 ms, elevating your FPV experience to new heights.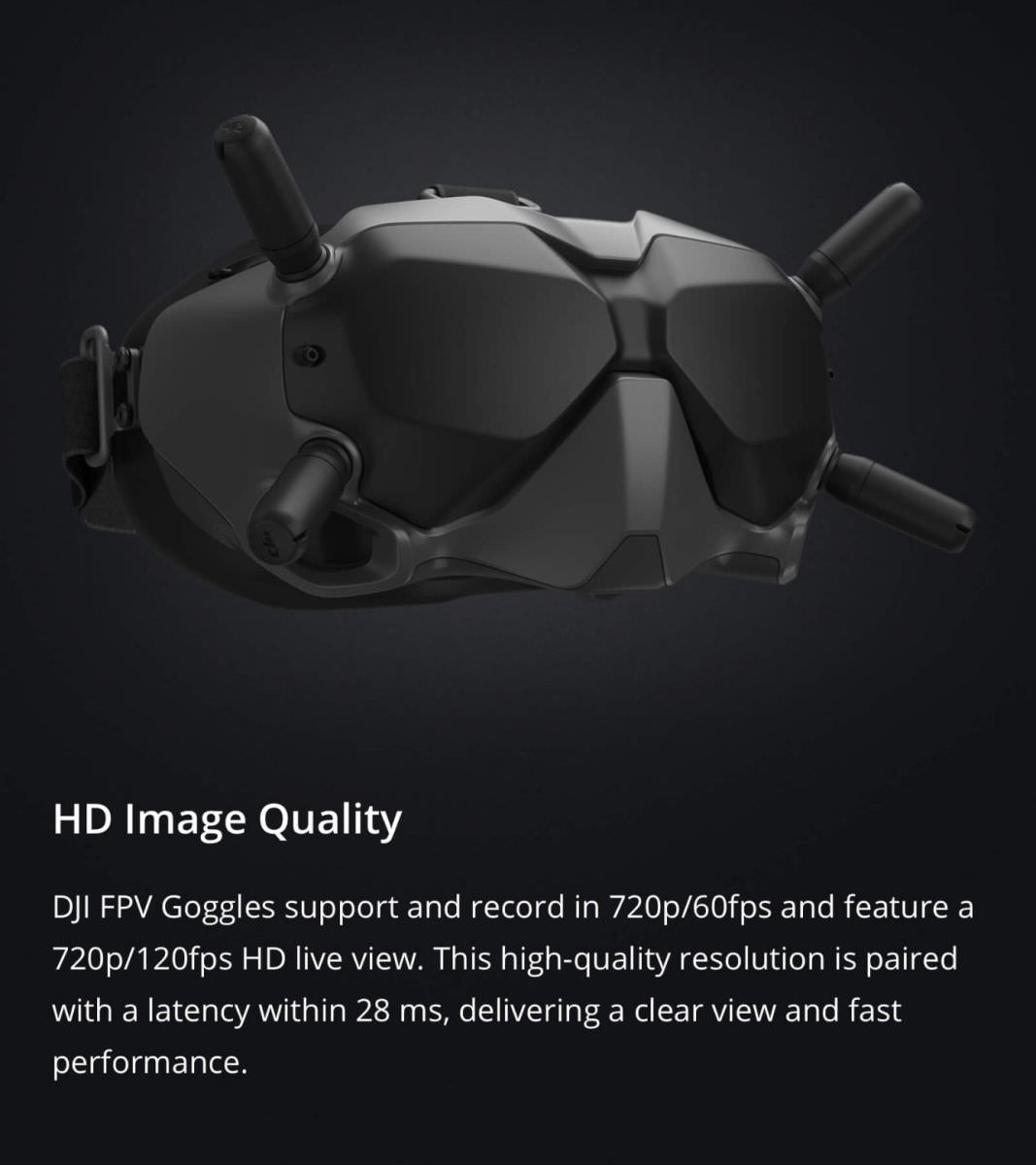 INSTANT PLAYBACK
Videos recorded and saved on the microSD card can be replayed instantly through DJI FPV Goggles.
BROADCASTING SUPPORTED
Pilots can share camera views with other DJI FPV Goggles that are set to Audience mode, allowing viewers to see what the racer see.
COMPATIBLE WITH ANALOG VIDEO TRANSMISSION
The DJI Digital FPV System can be used with analog image transmission, allowing users to switch between AV and digital video transmissions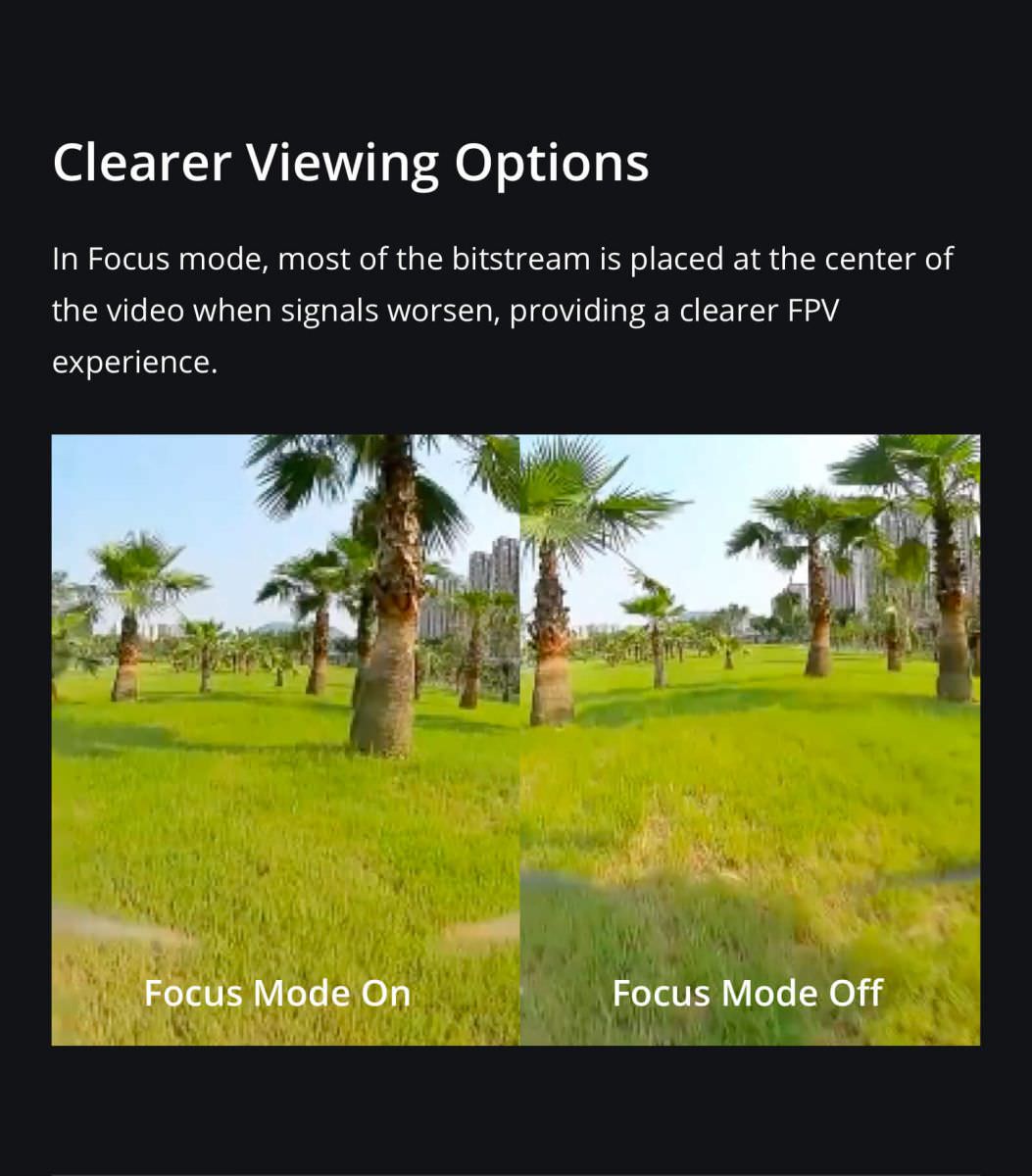 INNOVATIVE DESIGN
DJI FPV Goggles were engineered to be light as well as comfortable, and are equipped with incredible features. This includes multi-antenna technology, two screens, and two user-friendly channel adjust buttons, stabilising video transmission and creating an engaging FPV flying experience.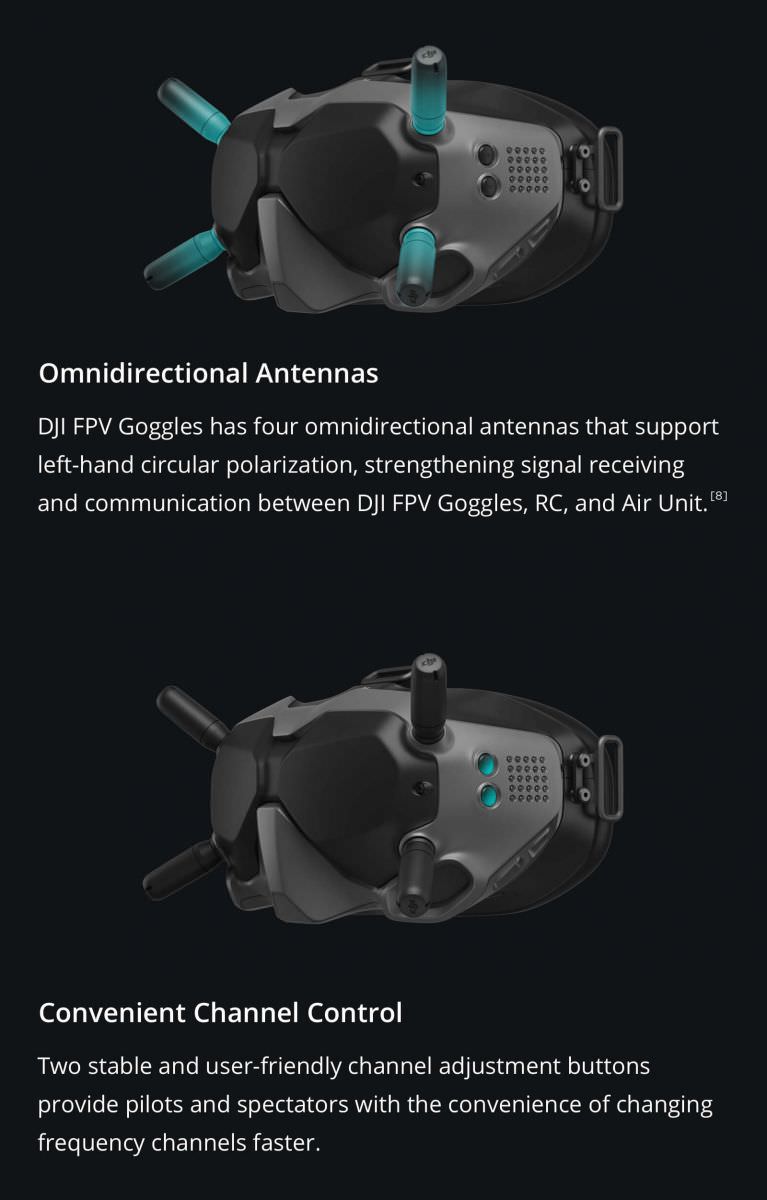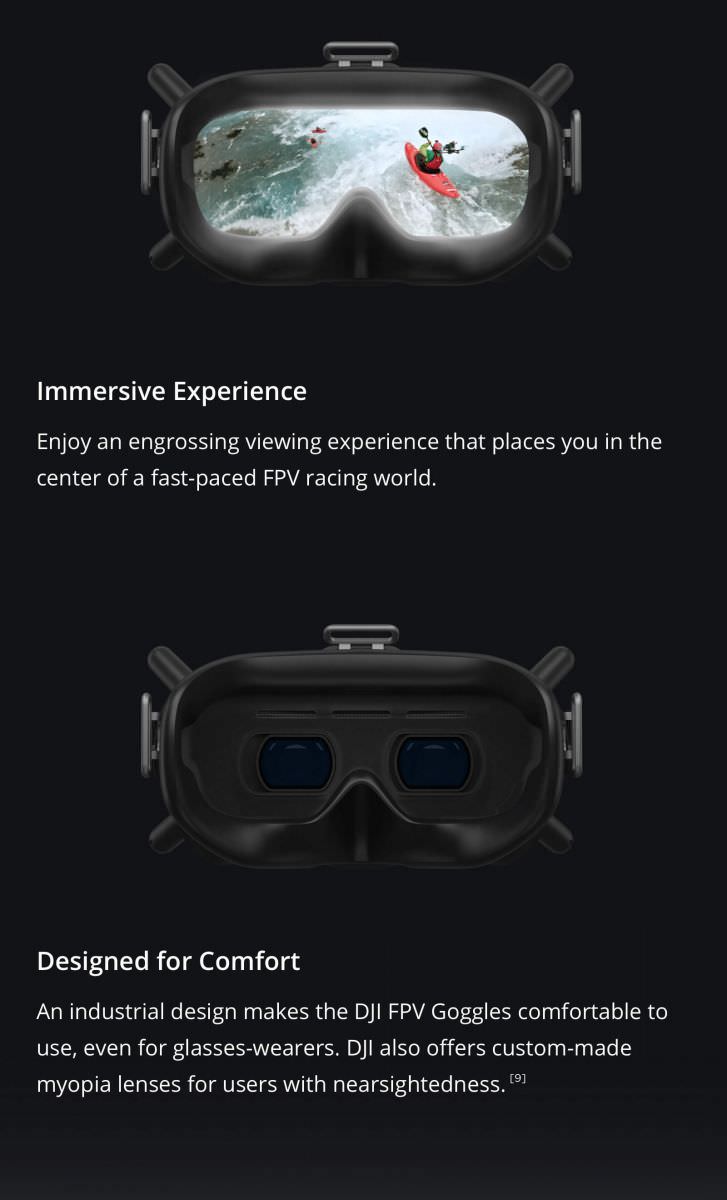 DJI FPV AIR UNIT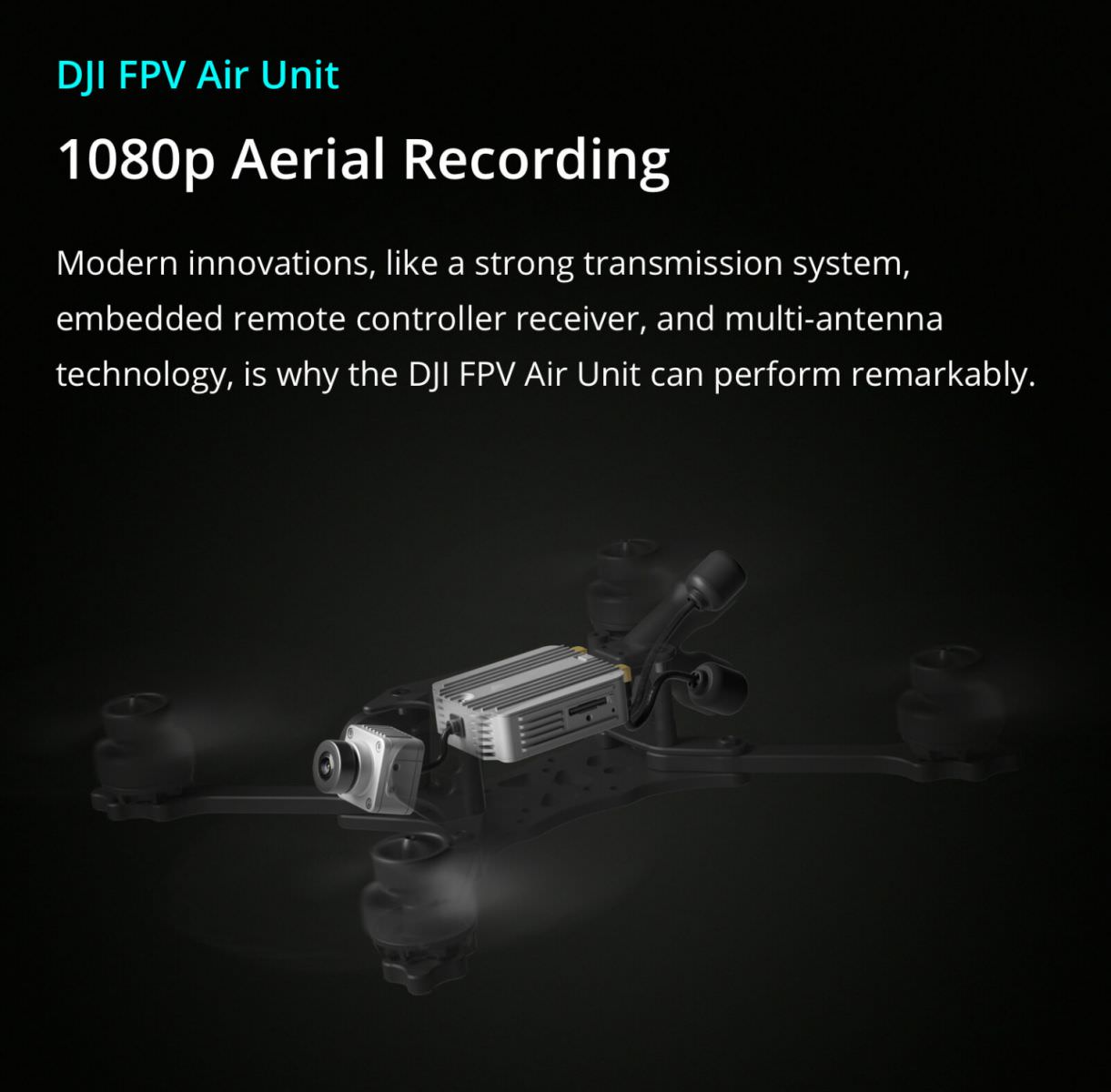 8 CHANNELS, 8 DRONES
The DJI FPV Air Unit is equipped with eight frequency channels, which allows up to eight drones to fly simultaneously.
1080P AERIAL FOOTAGE
The DJI FPV Air Unit records videos at 1080p/60fps during flight, providing pilots with smooth and clear aerial footage.
EMBEDDED REMOTE CONTROLLER RECEIVER
Users can wirelessly connect their DJI FPV Air Unit to the DJI FPV Remote Controller without having to purchase additional receivers. This reduces flight preparation time significantly.
MULTI-ANTENNA TECHNOLOGY
The DJI FPV Air Unit has tow antennas, both of which are receivers and transmitters, ensuring broader signal coverage for reliable image transmission.
DJI FPV REMOTE CONTROLLER
INTEGRATED CONTROL
The DJI FPV Remote COntroller comes quickly to the DJI FPV Air Unit and DJI FPV Goggles for fast take-off. Additionally, its high-capacity battery ensures a longer usage time and a better flight response.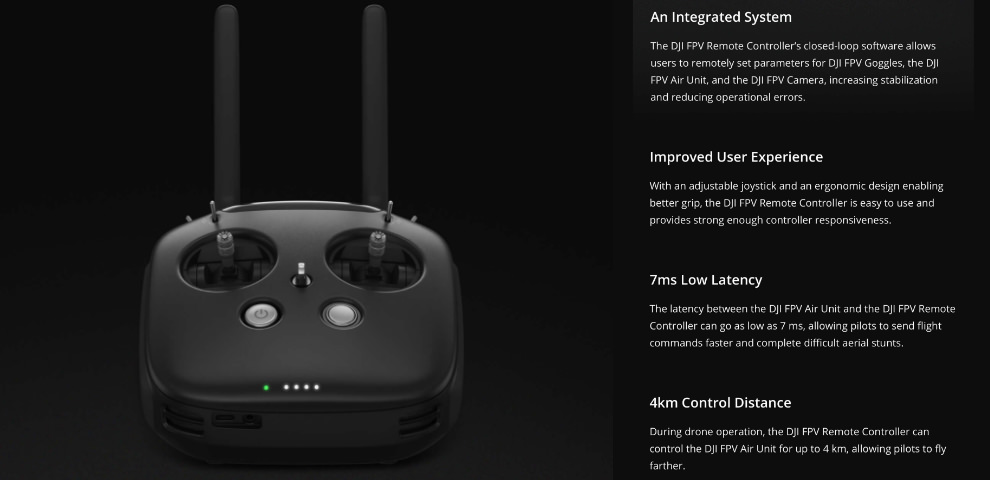 DYNAMIC FILMING CAPABILITIES
The DJI FPV camera has a 150° ultra-wide-angle lens, which provides a wide field-of-view for users. Pilots can also select from three camera modes to overcome challenges in different flying scenarios as well as adjust screen brightness and saturation to obtain a vivid range.

IN THE BOX
FPV Goggles (foam padding included) x 1
Antennas x 1
USB-C Cable x 1
Headband x 1
Sleeve x 1
Power Cable x 1
Air Unit (camera included) x 2
Antenna (MMCX elbow) x 4
3-in1 Cable x 2
M2.0 Screw x 8

The DJI Goggles are comfortable goggles designed for seamless FPV flying with DJI products. [1] They combine a pair of large ultra-high quality screens, long-range,low lag wireless connectivity, and direct control of photo and video capture. With Intelligent Flight Modes like ActiveTrack, TapFly, Terrain Follow, Cinematic Mode andTripod mode, a totally new flying dimension is created. Immersive FPV, a pair of 1920×1080 HD screens and a head tracking feature, enabling you to look at the world from above.
LEARN MORE
[1] DJI Goggles supports Mavic Pro, Phantom 4 series and Inspire series. Some functions will be adapted for different DJI Products.
[2] HD mode: 1080p/30fps: near-field with no interference; 720p/30fps: at long range or with interference; Smooth Mode: 720p/60fps.
[3] Using the Mavic Pro, stream wirelessly at 720p/60fps and record video at 720p/120fps.
[4] For Mavic Pro with two pairs of DJI Goggles and two RCs only.
[5] The use of a spotter is essential when wearing DJI Goggles. The aircraft should not fly beyond the spotter's line of sight. [6] DJI Goggles can only play content downloaded from DJI drones.