DJI OM 4 is a foldable stabilizer designed to complement your smartphone, allowing you to start recording right away. Magnetic, ultra-compact, and bursting with easy-to-use features, OM 4 is the ultimate solution for sharing your world.
Features
Magnetic Design
The magnetic phone clamp and magnetic ring holder enable effortless capture whenever inspiration strikes. Attach your smartphone to DJI OM 4 instantly, perfect for filming on the go.
Mounting and dismounting your mobile device onto a gimbal used to be a hassle due to poor design and balancing requirements. This led many users to forego gimbals as they were worried about missing the moment.
Attaching or detaching your mobile device can be done in the blink of an eye. "

Magnetic Ring Holder
With a subtle form and a sleek design, the Magnetic Ring Holder won't bother you while using your mobile device.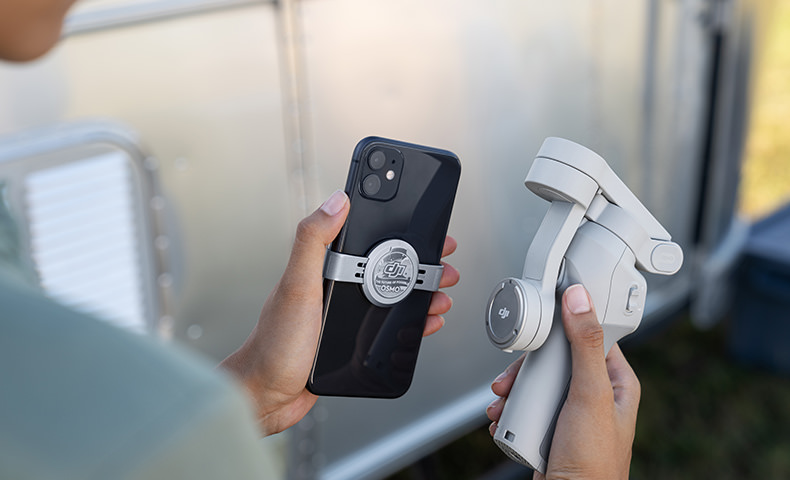 3-axis Stabilization Upgraded
Users don't know if they are balancing the gimbal correctly, but with a stronger motor, you can use it even if it's not perfectly balanced.

Foldable Design
The magnetic phone clamp and the magnetic ring holder can be detached from the gimbal, decreasing its size

Gesture Control
Now you can use gesture control to stop recording. This allows users to adjust their composition while tracking instead of only centering it by default.
Standby Mode
Mobile device can even be removed while the gimbal is in use, and it will enter standby mode automatically. Simply put the mobile device back into place press any button to begin shooting again.
Convenient Compatibility
OM 4 directly controls the shutter of most smartphone cameras and has also been specially optimized for certain brands.